Viktoria Weber
Fellows
2022
Prof. Dr.
Vice-Rector for Research and Sustainable Development and Head of Department for Biomedical Research, University for Continuing Education Krems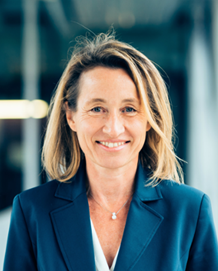 ---
---
Inaugurated for:
Short CV
Viktoria Weber, Professor for Applied Biochemistry, is Vice Rector for Research and Sustainable Development at the University for Continuing Education Krems (UWK). She graduated in Biotechnology from the University of Natural Resources and Life Sciences in Vienna, where she obtained her PhD-thesis in Glycobiology, and her habilitation. As a Post-Doc at the Institute for Tumor Biology and Cancer Research, Medical University of Vienna, she dealt with the characterization of proteins involved in cell cycle control, before joining the UWK in 1999. She was appointed Full Professor for Applied Biochemistry in 2015 and has been serving as Vice Rector for Research and Sustainable Development since 2010. She led the Christian Doppler Laboratory for Innovative Therapy Approaches in Sepsis, is Chair of the Department for Biomedical Research at the UWK, co-founder of the Austrian Society for Extracellular Vesicles (www.asev.at), President of the European Society for Artificial Organs (www.esao.org), and President of the Austrian Association for Molecular Life Sciences and Biotechnology (www.oegmbt.ac.at).
Together with her colleagues, she has initiated and developed a PhD program for Regenerative Medicine at the UWK. She has (co)organized a number of meetings, such as the 48th ESAO Congress in Krems (2022), the ASEV Meeting in Krems (2021), the Symposium on Extracellular Vesicles (2015, 2016), and ESAO Winter Schools (Semmering, Austria, 2011, 2012, 2018; Baden, Austria, 2019).
Her research focuses on cellular activation at the blood-biomaterial interface in extracorporeal circuits, on extracellular vesicles and their roles in thrombogenesis and immunomodulation and on advanced methods for the detection of blood stream infection and sepsis. Current h-index 28; 7663 citations; funding from national and international projects (FP6 STREP, FP7 IAPP, H2020, Christian Doppler Research Society).