Sabine VAN HUFFEL
Fellows
2012
Professor, Biomedical Data Processing
Founding Fellow
Professor, KU Leuven, Belgium and Distinguished Professor at TU/e, The Netherlands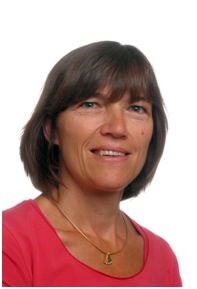 ---
---
Inaugurated for:
Short CV
Sabine VAN HUFFEL received the MD in computer science engineering in June 1981,
the MD in Biomedical engineering in July 1985 and the Ph.D in electrical engineering
in June 1987, all from KU Leuven, Belgium. She is full professor at the department of
Electrical Engineering, KU Leuven, Belgium, where she is heading the Biomedical Data
Processing Research Group (about 25  researchers) . She is programme director of the master
of Science in Biomedical Engineering at KU Leuven, and also fellow from IEEE, SIAM and EAMBES.
In April 2013 she received an honorary doctorate from Eindhoven University of Technology,
together with an appointment as a Distinguished professor.
 
She performs Research – fundamental/theoretical as well as application oriented-  in the domain
of (multi)linear algebra, (non)linear signal analysis, classification and system identification with
special focus to the development of numerically reliable and robust algorithms for improving
medical diagnostics in numerous areas such as epilepsy, stress and neonatal brain monitoring.
In particular, she is well-known for her contributions to Total Least Squares (TLS) fitting  and more
recently for her expertise in matrix/tensor based biomedical multimodal and multichannel
data processing with applications in fusing EEG & functional MRI as well as multiparametric MRI.
 She published two SIAM  monographs, about 420 articles in refereed international journals and about 300 articles in international peer-reviewed conferences (>20.000 google-scholar citations).
For more information, see http://www.esat.kuleuven.be/stadius/.