Roberto HORNERO
Fellows
2020
Prof. Dr.
University of Valladolid, Spain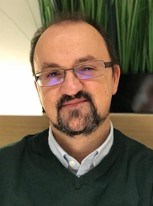 ---
---
Inaugurated for:
his prominent leadership in biomedical signal processing with emphasis on EEG, MEG in applications related to Alzheimer's disease, epilepsy, brain computer interfaces and sleep apnea.
Short CV
Roberto Hornero is currently Full Professor in the Department of Signal Theory and Communications at University of Valladolid. His main research interests are EEG and MEG analysis to help in the diagnosis of neurodegenerative diseases, automatic processing of pulse oximetry and overnight polysomnography signals to help in the diagnosis of sleep apnoea, retinal image analysis to automatically detect lesions associated with Diabetic Retinopathy and the development of Brain Computer Interface (BCI) systems to improve the quality of life of disabled people. He has published widely in these areas with more than 160 papers in indexed journals JCR, 3 international patents in USA and more than 300 communications in premier international and national conferences. He has conducted numerous successful research projects (national and international).  He is Director of the Biomedical Engineering Group at the University of Valladolid (GIB-UVa: http://www.gib.tel.uva.es/), whose research interests are connected with the field of Big Data in biomedical signals and medical images. GIB-UVa is a Recognized Research Group (Universiy of Valladolid), Consolidated Research Unit (Government of Castile and Leon, Spain) and member of the Biomedical Research Networking Center in Bioengineering, Biomaterials and Nanomedicine (CIBER-BBN: https://www.ciber-bbn.es/). He is Coordinator of the Biomedical Engineering Bachelor Degree at the University of Valladolid (Spain), where he teaches subjects related to the analysis of biomedical signals. He is also Fellow of the European Alliance for Medical and Biological Engineering & Science, Senior Member of IEEE Society for Engineering in Medicine and Biology (EMBS) and Vice-President of the Spanish Biomedical Engineering Society (SEIB).